Attorney Jose Baez confirmed that he attempted to call New England Patriots coach Bill Belichick to testify for the defense in the double homicide trial of former Patriots star tight end Aaron Hernandez.
Belichick was served a subpoena to appear at Suffolk County Court, according to Baez, however there was little notice on the appearance date. Belichick's schedule prohibited him from appearing so quickly. Rather than delay the trial for a single witness, Baez said that he moved on and rested the defense Wednesday afternoon. Closing arguments were delivered on Thursday and the jury of 12 is expected to begin deliberating Friday morning here.
"It was short notice so I didn't make a big deal about it," Baez told Yahoo Sports after court on Thursday. "It wasn't a big part of the trial anyway, so I dropped it."
Christina Hager of WBZ-Boston first reported that Belichick had been served papers to appear in court.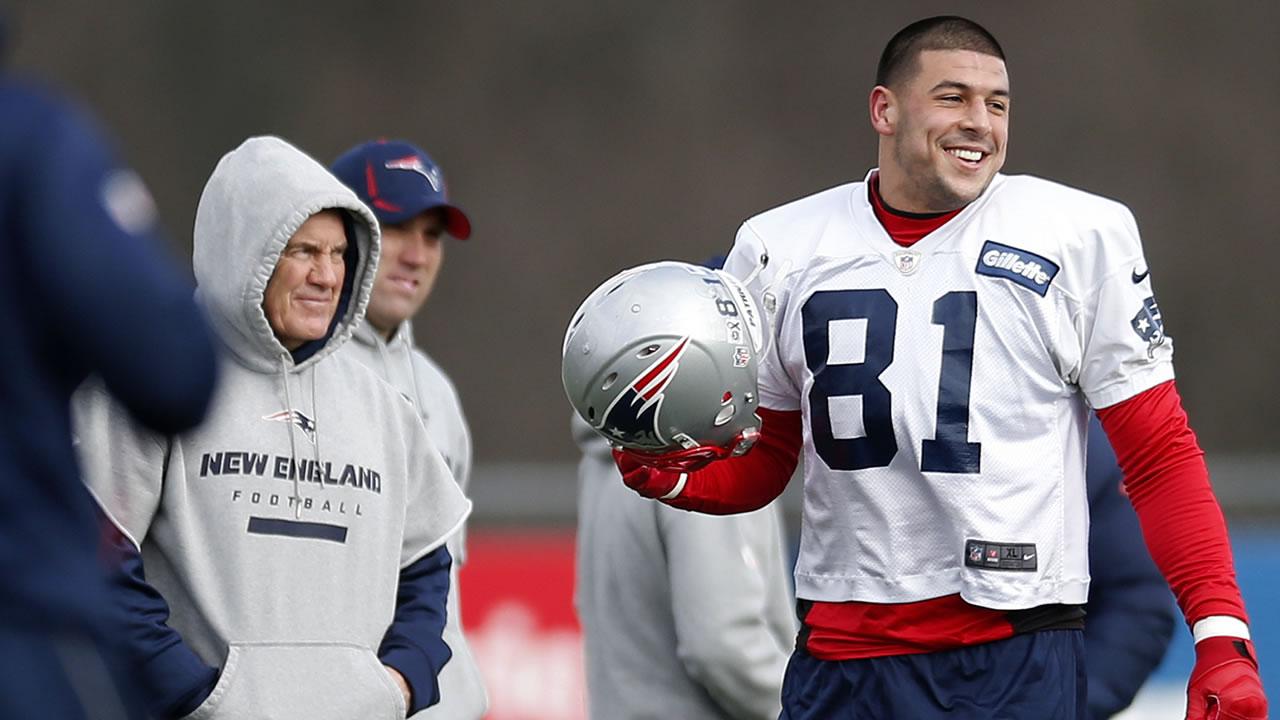 Patriots head coach Bill Belichick, pictured here in 2012 with Aaron Hernandez, was subpoenaed to testify in Hernandez's double murder trial. Rather than wait for his appearance that would've delayed the trial, Hernandez's defense moved on. (AP)
A subpoena to appear at a trial is issued from the bench and is non-negotiable. Failure to appear can bring charges. In this case, there has been no reference or further known action from Judge Jeffrey Locke who is presiding over the case. It's possible that the matter was dropped once Baez rested.
"I'm not sure what happened," Baez said.
An attempt to reach Belichick for comment via the Patriots was not immediately returned.
Hernandez is standing trial for the murders of Daniel de Abreu and Safiro Furtado in a 2012 drive-by shooting in Boston's South End. The state alleges Hernandez was angry after de Abreu spilled a drink on him earlier in a local nightclub. Hernandez is already serving a sentence of life without the possibility of parole for murdering Odin Lloyd in 2013.
While Belichick's testimony apparently wasn't going to play a major role in the defense, it certainly would have interested football fans who have been fascinated by Belichick's media conferences through the years – at times terse and tense, at times elaborative and generous. Belichick has led the Patriots to five Super Bowl titles and is considered an icon in the region.
He was the Patriots coach when they drafted Hernandez in 2010 out of the University of Florida and during all three of his seasons with the team. Prior to the 2012 season, the team rewarded him with a $40 million contract.
Patriots owner Robert Kraft was a key prosecution witness in Hernandez's 2015 trial for killing Lloyd. Kraft had spoken to Hernandez prior to his arrest and Hernandez offered an alibi for the Lloyd murder that contradicted clear evidence. Hernandez also told Kraft he was doing something else at the time of the shooting, but police had not yet revealed publicly when it had occurred. That suggested Hernandez had to have been present at the murder. It was one reason his defense changed its strategy at the end of the trial.